Maxi linen dresses are the epitome of effortless summer style. From beachside picnics to brunch with friends, this versatile dress can be dressed up or down for any occasion. But as much as we love the comfort and breathability of linen, it can be tricky to know how to style a maxi linen dress without looking too casual.
In this article, we'll dive into some of the best ways to elevate your maxi linen dress game. Whether you're aiming for a bohemian vibe or prefer a more polished look, we've got you covered with tips on accessories, shoes, and layering techniques that will have you feeling confident and chic all season long.
Why the Maxi Linen Dress is a Must-Have
One of the main reasons why maxi linen dresses are a must-have is their versatility. They can be dressed up or down depending on the occasion. For a casual look, pair your maxi linen dress with sandals and minimal accessories. You can also add a denim jacket for an extra layer during chilly nights.
If you're looking to create a more formal look, style your maxi linen dress with heels and statement jewelry. A belt can also help cinch in your waist to create a more polished silhouette. Additionally, adding a blazer can instantly elevate your outfit.
Lastly, don't be afraid to mix and match prints and fabrics when styling your maxi linen dress. Adding a printed scarf or clutch can add dimension to an otherwise plain outfit. Mixing textures like leather or suede can also add visual interest and make for an overall eye-catching ensemble.
Choosing the Right Accessories: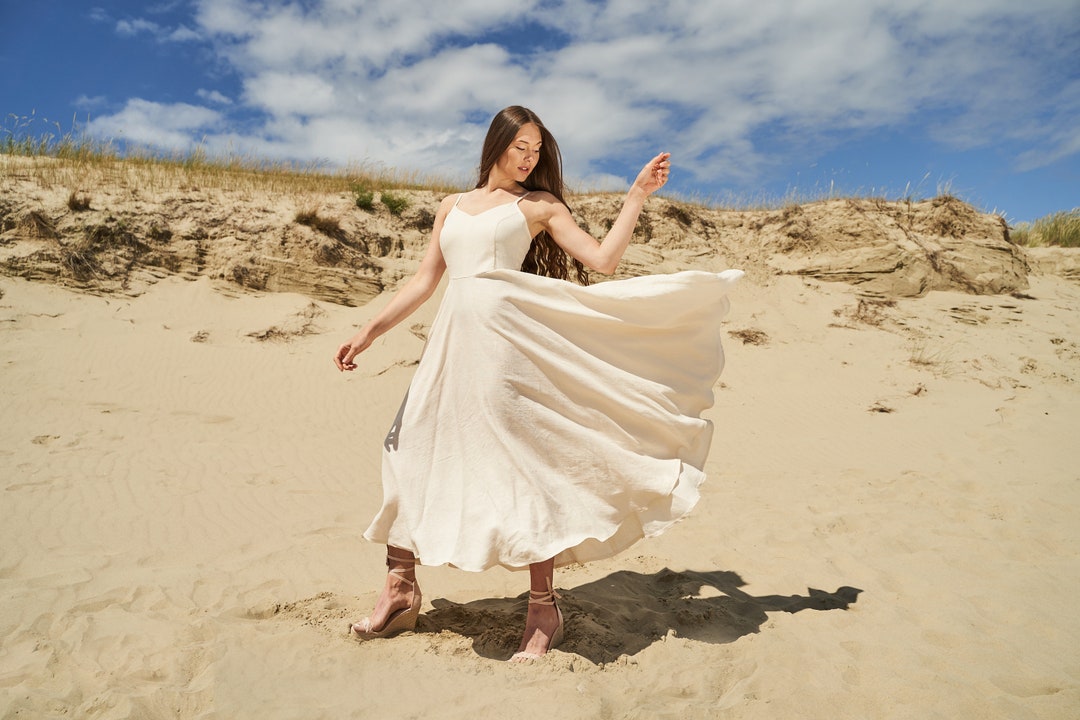 Accessories are an essential part of styling any outfit, and a maxi linen dress is no exception. When choosing the right accessories for this type of dress, it's important to keep in mind its casual and relaxed nature. One great accessory to pair with a maxi linen dress is a statement necklace. A chunky or colorful necklace can add some interest to the otherwise simple outfit.
Another accessory that pairs well with a maxi linen dress is a hat. A wide-brimmed sun hat can not only protect you from the sun but also elevate your style game instantly. If hats aren't your thing, try adding some sunglasses for a chic look that will have you feeling like an A-lister in no time.
Finally, when it comes to footwear for your maxi linen dress, there are endless options available depending on the occasion and personal preference. For something more casual and comfortable, opt for flat sandals or sneakers. To amp up the look for something more formal or special occasions, consider wedges or even heels if they match well with your overall look and make you feel comfortable throughout the day or night!
How to Accessorize Your Maxi Linen Dress
The key to accessorizing your maxi linen dress is in keeping it simple. Linen being a natural fabric, creates an effortless and comfortable look. You can add a pop of color by wearing some statement jewelry or opting for a bold lip shade while still keeping the rest of your accessories minimalistic.
A straw hat or bohemian-inspired tote bag can also add an extra touch of style to your outfit without overpowering the dress itself. For footwear, you could go with strappy sandals or espadrilles which will complete the overall look.
If you want to wear something over your dress, try throwing on a denim jacket or light cardigan for cooler evenings. Keep in mind that the beauty of a maxi linen dress lies in its simplicity and versatility – so avoid going too overboard with accessories and let the dress speak for itself!
Mixing and Matching:
One of the most versatile pieces of clothing you can own is a maxi linen dress. It's perfect for all occasions, from running errands on a hot summer day to attending weddings and parties. The key to styling it is by mixing and matching with other accessories.
For a casual look, pair your maxi linen dress with sandals or sneakers and a denim jacket. You can also add a belt to cinch in your waistline for a more flattering silhouette. If you want to go for an elegant look, opt for strappy heels and statement jewelry like earrings or necklaces.
Another way to mix things up while styling your maxi linen dress is by layering it with different outerwear options such as cardigans, blazers, or coats depending on the weather conditions. This can give your outfit an entirely new look without having to purchase any new clothes or accessories. Mixing and matching allows you to get creative with your wardrobe while being budget-friendly at the same time!
Pairing Your Maxi Linen Dress with Other Pieces
One way to pair your maxi linen dress with other pieces is by adding a denim jacket. This creates a perfect casual look for any day out. Opt for a light-washed or medium-washed denim jacket that will complement the neutral color of your linen dress. You can also wear it with white sneakers or sandals to complete the look.
If you want to elevate your maxi linen dress, try pairing it with ankle boots and a leather jacket. This combination gives an edgy vibe while still maintaining the elegance of the dress. It's perfect for dinner dates or night outs with friends. Choose black or brown ankle boots and match them with a black leather jacket.
Lastly, you can accessorize your maxi linen dress by adding statement jewelry like chunky necklaces, bangles, and earrings. This will make your outfit stand out even more without taking away from the beauty of the dress itself. Remember that when it comes to styling, less is always more – so don't overdo it! With these tips in mind, you'll be able to create various looks using just one piece – your trusty maxi linen dress!
Layering for Style and Functionality:
Layering is not only for warmth during cold weather, but it can also add style and functionality to any outfit. If you want to add dimension and interest to a maxi linen dress, layering is the way to go. The key here is to use layers that complement each other.
For instance, a denim jacket or a leather bomber jacket can be paired with a maxi linen dress for an edgy look. A cardigan or a blazer can also be used as top layers, which adds sophistication and elegance to the overall outfit. In addition, accessories such as scarves or statement necklaces can help create focal points on different layers.
Overall, layering is an art form that requires creativity and practicality. When styling your maxi linen dress with layers, consider the occasion and your personal style preference. By using different textures and colors in your layering approach, you'll achieve both style and functionality in one effortless ensemble.
How to Layer with Your Maxi Linen Dress
One of the best things about maxi linen dresses is that they are versatile and can be styled in a number of ways. When it comes to layering with your maxi linen dress, one option is to add a denim or leather jacket on top. This not only adds warmth but also creates a chic and edgy look.
Another way to layer with your maxi linen dress is by adding a sweater or cardigan over it. This works particularly well in colder weather and allows you to wear your favorite summer dress all year round. You can also experiment with different textures and colors when layering with a sweater or cardigan, making it easy to achieve various looks.
Lastly, consider accessorizing your maxi linen dress with scarves, belts, hats, or even jewelry for an extra touch of style. A scarf can be draped around the neck for added warmth while creating an eye-catching look. A belt cinched at the waist can create shape and definition while accentuating curves. Adding hats or jewelry can elevate any outfit from simple to sophisticated instantly!
Shoes that Complement the Look:
When it comes to styling a maxi linen dress, choosing the right pair of shoes can make or break your look. The beauty of this dress lies in its simplicity and flowy silhouette, making it perfect for warm weather and beach vacations. A pair of strappy sandals or espadrilles would complement the dress nicely, adding an effortless and bohemian vibe to your outfit.
If you're looking to elevate your look for a more formal occasion, pointed-toe pumps or heeled mules in a neutral color would do wonders. These shoes create an elongated silhouette that pairs well with the relaxed style of the maxi linen dress. Another great option would be block heels as they offer comfort while still giving height and elegance.
Ultimately, when selecting shoes that complement a maxi linen dress, it's important to consider both comfort and style. Whether you opt for something casual or formal, choose shoes that make you feel confident and comfortable so you can enjoy wearing your favorite summer outfit all day long!
Choosing the Right Footwear for Your Maxi Linen Dress
Maxi linen dresses are a great choice for those who want to stay comfortable and stylish during the hot summer days. But, when it comes to choosing the right footwear, there are several options that you can consider. One of the best choices is a pair of flat sandals. These will not only keep your feet cool but also complement the relaxed and breezy style of a maxi linen dress.
Another option is to go for espadrilles. These shoes give off a beachy vibe and add some height without being too uncomfortable or heavy on your feet. They work well with all types of maxi linen dresses, from casual to more formal ones.
If you prefer something more polished, then wedges are an excellent choice. They provide more support than other shoe types while still keeping your feet cool in warm weather. Plus, they add some height and elongate your legs, making you appear leaner and taller overall. Choose neutral-colored wedges like beige or brown as they go with practically everything in your wardrobe!
Hairstyles that Work with a Maxi Dress:
If you're going out in a maxi linen dress, there are a variety of hairstyles you can choose from to complement your look. For example, try letting your hair down into soft waves or curls for an effortless and romantic vibe. This style is perfect if you want to keep things simple yet elegant.
Another option is to pull your hair back into a sleek low bun or chignon. This classic style is perfect for showing off statement earrings or a bold necklace without overwhelming the overall look. Plus, it's great for keeping your hair out of your face on hot summer days.
In addition to these choices, braided hairstyles are also popular with maxi dresses. You can opt for a fishtail braid that falls over one shoulder or go for something more intricate like a crown braid that wraps around your head like a halo. Regardless of which hairstyle you choose, make sure it complements the flowy and relaxed nature of the maxi dress while still showcasing your personal style.
Top Hairstyles to Wear with a Maxi Linen Dress
One of the most popular ways to style a maxi linen dress is to pair it with a messy bun or beachy waves. This look creates an effortless and relaxed vibe perfect for summer days. It's also great for showing off any statement earrings or necklaces that you want to wear with your outfit.
Another hairstyle that complements a maxi linen dress is the classic ponytail. Whether you choose to wear it high or low, this hairstyle keeps your hair out of your face and adds elegance and sophistication to your overall look. Accessorize with a scrunchie or ribbon for added flair.
Finally, braided hairstyles like fishtail braids or Dutch braids can add texture and dimension to your hair while complementing the simplicity of a maxi linen dress. These styles work best when worn on one side, allowing the other side of your hair to fall naturally over one shoulder, completing the bohemian aesthetic.